*Well, no, huge mountains with multiple back bowls, in-bounds cliff bands, and thousands of acres of lift-accessed terrain and gated side-country or backcountry are The Best. But we don't have those here in the east, and still, some of the best times I've had skiing (in the east) have been at these little tiny places.

Welcome to Campton Mountain, the vision of some developer who put in a huge infrastructure; miles of roads in a big maze to access dozens of homes, many of which are second homes, mostly built in the mid-to-late 80's. It's called Waterville Estates, but Waterville, while it does have a bigger ski area, is 25 minutes away. But how cool would it be to have your own ski area right in the middle among the house lots?! Very cool. The base lodge is also, of course, a bar and restaurant. They have live music often and 5-6 TVs blasting whatever Big Game is on right now. There's a double chair and a rope tow, and three trails. It's PERFECT.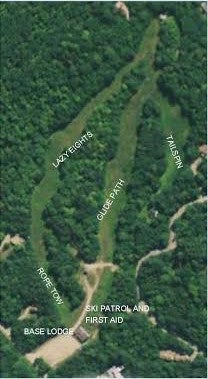 Yesterday we went there with our kids because at the place we usually go, it was -14F at 8:30 am. By 1:00pm it was still single-digit temps up there, but it was a balmy +18F at Campton Mountain, about 20 minutes from home. As we pulled into the parking lot, there were - I think I remember the right number - EIGHT other cars there. This includes employees. At a peak around halftime of the football game, there were about 15 cars, in total.

The kids loved the short lift ride - the chair's pretty fast! - and then they learned how to do the rope tow by themselves. They're 4 and 6, and there were afraid at first, but once they realized they could basically take themselves skiing, that feeling of independence caught on and they did 10 more laps on their own. It was also an amazing thing to watch as a parent, as the 6-year-old showed the 4-year-old how to find her way through the "secret woods path."

We stayed and had pizza, my wife and I had a beer, and overall we spent about $100 on a solid afternoon of skiing, food and drink. That's pretty amazing, considering a single adult lift ticket is approaching that number just about anywhere around here. At the bigger mountains of course that number is closer to $200.

Around New England, small ski areas used to be everywhere, but they are few and far between these days. Fortunately, there has been a resurgence of these family-friendly little hills and I can name 5 or 6 within an hour's drive, all of which are just as accessible and fantastic. Most of them have gone from family-owned operations to a club-type structure, where members fund it through donations, and usually there are a handful of big donors who really make it happen. $20 lift tickets can't keep a place like this running. The bar does help, though.

So while I might dream of hucking cliffs into deep powder at Alta or Blackcomb or Telluride, I was 100% thrilled to spend the afternoon at Campton Mountain yesterday - I even found a couple little rock walls to jump off, into the 6" of snow we got last week.