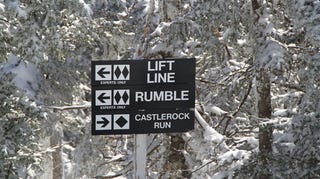 Skiing is by far my favorite winter hobby. I am 24 but I have only seriously been skiing for the past few years. Sure my first time on the slopes was at age 7 but I really didn't get it then. After high school, I started going once or twice a year at Mountain Creek, Camelback, or Blue Mountain (all places within 2 hours of home in NJ). Those trips were with a few friends and I would just rent equipment and go out for the day. Last year was my first time up to Vermont for some real skiing. I liked it so much that I got a season pass for the 2015 season! Now of course as any East Coast skiers this season should know, it has been quite the lackluster season. However, I have a story to tell about the greatest run that I have ever experienced and it happened on my last trip up to the Bush.
The run started off with a one mile hike from Paradise to the top of Castle Rock peak via the Long Trail. This is a pretty long and arduous climb with regular ski boots on and since my friend and I had never done it, we didn't know what to expect. We got there first thing in the morning around 920am so we had the hike to ourselves. For those of you that dont know, Sugarbush has a peak called Castlerock that is serviced by a long and slow double chair that is often out of service. In this case, it had been out of service and the whole peak closed for about 3 weeks before that day. Meaning nobody had skied any of the trails. I think you understand what I'm getting at! Anyways, this day they opened up the peak for hiking access only. Below is a map where in the middle you can see Paradise on Lincoln Peak to the left and Castle Rock to the right. Not a bad hike but still a struggle in ski boots and carrying skiis.
So now you know the setup. A classic, difficult slope with challenging rocks and naturally unique geography that has seen no skiers for 3 weeks and has gotten some fresh powder pretty recently. When we got to the peak it was just powder everywhere! Untouched powder at that. We made our way down to Rumble, arguably one of the best trails on the East Coast when there is ample powder. And it was truly divine! I wish I had video from my run because it was sublime. I have never skied anything better than that! When we got to the bottom I so wanted to climb right back up and do it again but it was quite the workout. We needed some rest doing normal lift accessed trails. It was just amazing that amidst this drought of a winter season for Vermont that we had a true powder experience like that. Getting first tracks on a trail that a few weeks ago was a pretty terrible rocky mess (we know this first hand lol) was just the best. Below is a video just to show what Rumble is like on YouTube.
It was this trail but with a ton more snow.
So more like this, but with less skill and less dubstep. Seriously great skiing though.