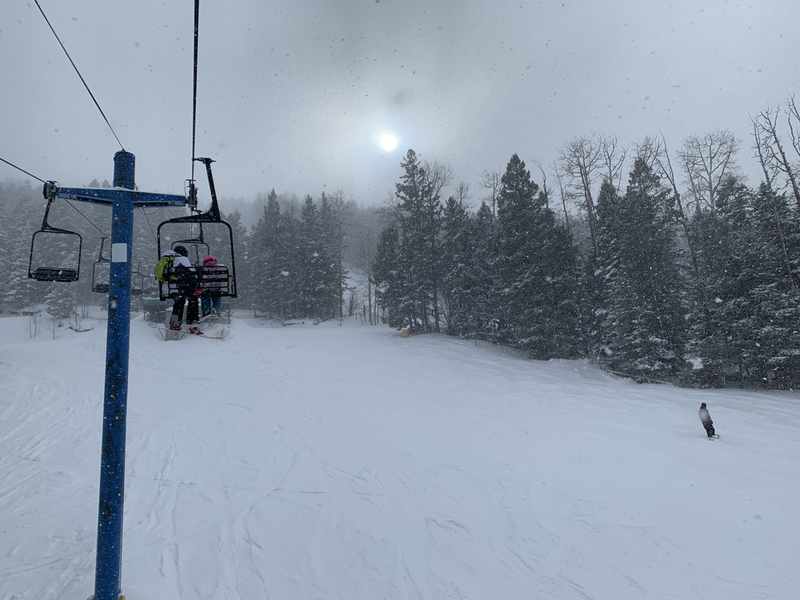 (This is my first post here - big thanks to Highlander-MT for the authorship! Sorry if it is kinda scatterbrained.) Pajarito is typically closed on Mondays, but they open for Presidents' Day. Since I had the day off, I planned early in the week to go today instead of my usual Saturday/Sunday. Turned out to be a good decision - it just did not stop snowing today. We had about 3" overnight, but another 5-6 must have fallen between 9 and 3:30 while I was there.

The Monday holiday that not everyone gets off work made for a mostly local crowd. I was running into coworkers all day long. The mountain opens and 9:00 and we got there just a little before that and got a decent parking space, but it did fill up quickly after that.
Both of my kids (6 and 9) got rental skis/boots and then went into all day group lessons. Once the instructors had them I ran off and met up with a friend and his 7th and 4th grade kids.
I'm still using old narrow Salomon Screams that I bought a decade ago for east coast crud. They do not float well in the fluffy stuff we have here. I'm planning to buy something around 100mm underfoot in the offseason.
Still, powder days like this are an absolute blast. The kids took plenty of falls but had soft landings. I got caught up in a few deep spots, but that was much preferable to trying to find soft spots in the hard pack we've had the last two weeks without a snowfall.
My friend managed to capture me in a potato pic.
I kept waiting for the sun to peak through to get some decent mountain photos from the lift but it never happened.

Pajarito isn't all that big, but there is some room to explore across 4 lifts. Between traversing between the lifts and downhill runs we were all ready for a break by noon. Also the goofball 7th grader was wearing jeans and sunglasses and was more than ready for his mom to arrive with his ski pants and googles.
After lunch an instructor took my 6 year old up with a hula hoop. This is his second time off of the magic carpet and on the the chair lift.
I saw him on the way down. He's taking to it really well, though he did bail after two runs to go hang out in the lodge. Little man was gassed.
After my kids were off again we met up with even more friends and got after a few blue runs. There were eight of us in a clump and there were a couple collisions and too many near misses to count. But everyone got up laughing. I met back up with my daughter as she was wrapping up her lesson. She's riding the chair lift now (first time today) and making it down the beginner hill without falling. Huge progress today and I think the soft conditions had a lot to do with it. We did a few beginner hill runs together without an instructor then I managed to convince my son to come play around in the magic carpet area a few times before we had to return the rental gear.
It's still snowing now at 11 PM. We have about 3" on the ground here 2000' below the base, so I'm sure it is building up there. More is in the forecast. Wednesday and Thursday it was upper 40s and raining and I was thinking the season would be over early. That looks to not be the case - in fact the forecast for Friday is looking like a ton of snow. Looks like I'll be back again on Saturday. I plan to take my daughter just the two of us and see how it goes. Hopefully we can have fresh snow on the ground without it actually falling.