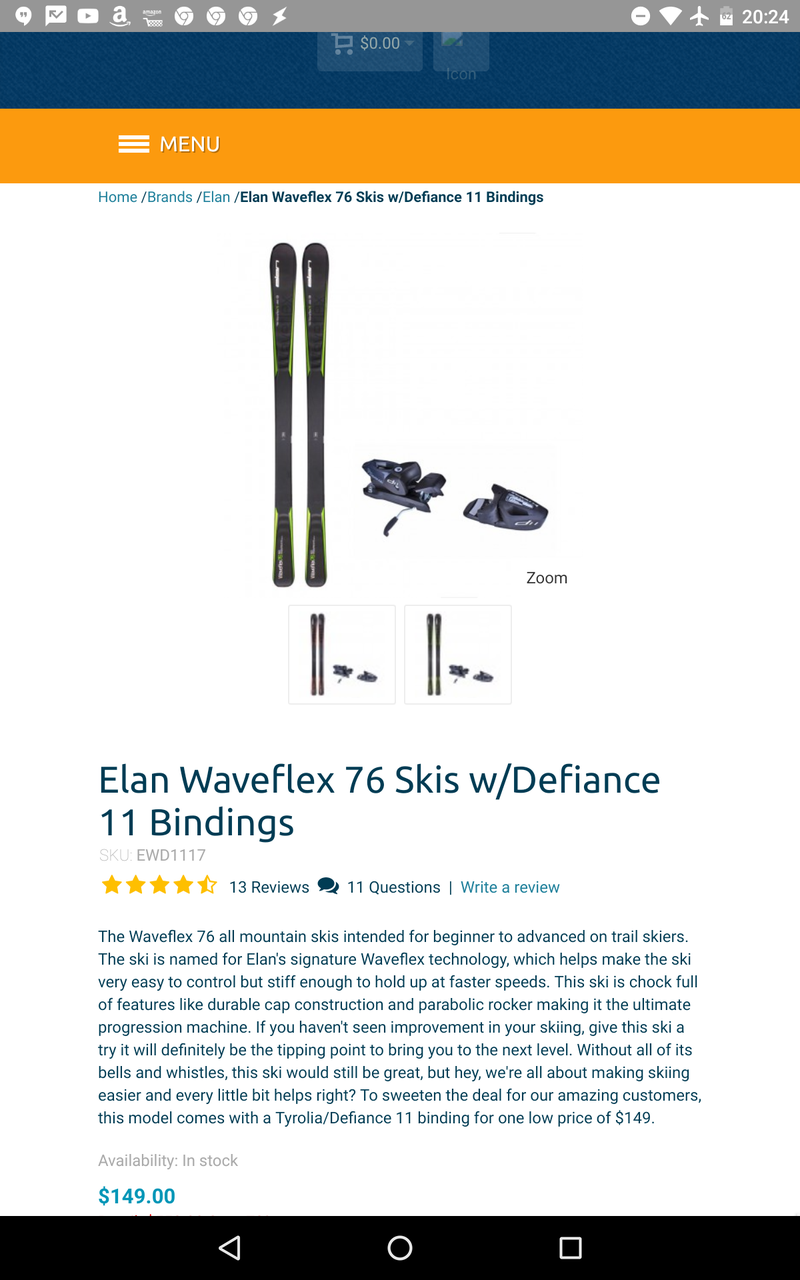 Since it's summer time, there are some decent deals out there on skiis. My current set are pretty TOAST. They will still work with some ptex added frequently but they will be my early/late season skiis when I'm likely to be chopping through rocks and other crud. It's nice to have a backup pair anyways and any time I'm not flying, it would be simple enough to just bring both and decide when I get there which skiis to use.

The new set is a really cheap pair of skiis but I'm super not picky and also super abusive to my equipment. My boots are still going great after ~70 days through 3 seasons of skiing so at least that is a major saved expense. I probably could use poles again too since my current ones are a bit bent, but I'll just order a set whenever since they aren't that bad yet. These new skiis are a size 168 (length) versus my current 171 and the width should be just slightly narrower. The biggest difference is losing the twin tips but I'm looking to try something different anyways.
More importantly though, I'm planning out some of my ski trips with the Ikon pass. No idea on dates yet, but here is my list of definitely places to go in order of priority:
- Alta/Snowbird, UT (5 days - 1 week long trip)
- Deer Valley, UT (5 days - 1 week long trip)
- Revelstoke, Canada (5 days - 1 week long trip)
- Mammoth, CA (every non-holiday weekend, especially may-June when I can take the Miata there)
- Squaw Valley, CA (valid every non holiday unlimited, probably will make 2 weekend trips)
- Bear Mountain (it's unlimited, no restrictions and close by home so I might as well go on the rare occasion they get snow - Ideal for a day trip)
- The others I might do if cheap flights pop up including Winter Park (CO), Copper Mountain (CO), Jackson Hole (WY), Aspen (CO).
- Not really interested in others on the pass.
I am super pumped for the season and especially with the summer heat in Socal right now, getting to some elevation with some snow sounds quite great right now. Jackson Hole on the priority list is the most glaring omission but flights there are super impractical compared to other places on the list.
My plan is also to put snow tires on the stock wheels of the STi so that I finally have a proper winter driving setup. My current summer tires are nearly dead and will probably be outright dangerous by the time socal "winter" rolls around. I will just drive the Miata on days too warm for snow tires and plan to pick up another set of wheels in the spring to use for new summer tires. They will suck for daily driving here but will be absolutely necessary to avoid chain restrictions heading to Mammoth and big bear whenever I please. I think I will live if I have to drive the Miata more lol.