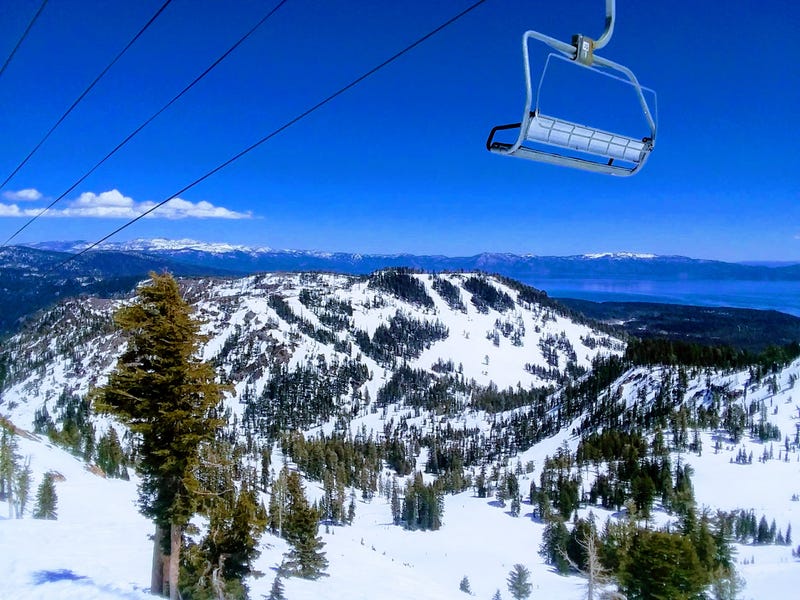 Although summer is on the minds of most people by this time of the year, I am still firmly entrenched in ski season. There are not many mountains left open in late April, especially with the somewhat lackuster snowfall compared to last year. But Squaw Valley up in Northern California around Lake Tahoe is a wonderful treat that always stays open late into the year. Last year they were still chugging along at 4th of July and should still be able to make it to Memorial Day this year. This trip, I checked out both the Squaw Valley and Alpine Meadows ski areas (part of the same "mountain collective destination") and enjoyed both thoroughly. It was a bit warm (~65F midday) so the snow got kind of sticky in places but if you knew where to look, there were some great steeps open that made for some excellent runs.
Overnight prior to my arrival, it had actually gotten quite cold so the snow was set up nice and firm in the morning. But with the warm weather, the mountain gradually became "gluey" throughout the day. It was a constant battle of chasing that goldilocks balance between ice and glue around the mountain. As the sun moved around it changed conditions drastically at different elevations. Overall, I had great luck in finding the right snow and actually had a lot of fun with the spring conditions on the groomers. It seemed anything that was well traveled avoided some of the glue conditions.
I am still an East Coast skiier at heart so variable conditions are my bread and butter. If I find a day where it's just endless powder (like I found at Alta) then it just feels like cheating. While I would probably prefer a powder day, a lovely couple of Spring days like this was just as fun to me. Sure I sometimes found rock hard ice in the morning and gluey mashed potatoes in the afternoon, but it was another day on the mountain so I was happy.
Looking forward to another trip to Mammoth next weekend to round off my ski season with a nice 13 days on the slopes. Not my longest season but at least every day has been a full day on an epic mountain. Overall I loved every mountain this season but nothing tops the Lake Tahoe area for just pure beauty.