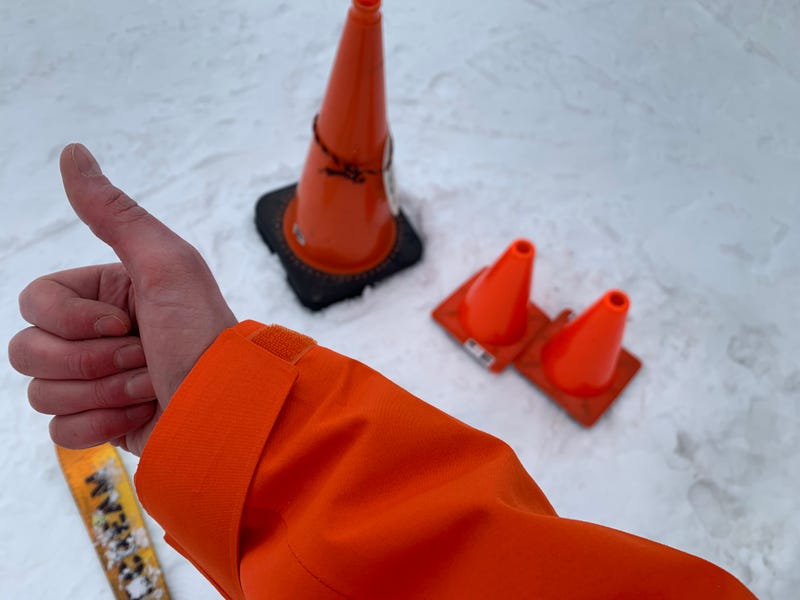 Got a new shell. PSA: The North Face's "Persian Orange" is very very very orange. Anyway, it's a Ceptor 3-layer shell. Pretty minimalist but good construction. Has stretchy thumb loops that I'm a big fan of and folds into its hood for storage which is neat. That's about it for features really. I'm 6'1" 160 lb. and an M fits well. Sleeves could be just a touch longer but any larger waist and the poweder skirt would be too loose. I grabbed it on end of season sale for $225. Retail was $320 which is pretty steep for what you get, but I'm happy with it for what I actually paid. My kids love it because combined with a white helmet it makes me really easy to find on the hill.
Oh yeah skied the local hill today. It was OK. Warming up here and the season is winding down. Got 3" overnight to freshen it up but there are choppy spots from freeze/thaw without snow since last weekend. Was kind of a mess with freezing rain the snow then sun then more freezing rain and now it's snowing again but 38 degrees as I type this in the lodge. Just screwed around the beginner hill with my kids (6 and 9 years old). My older one is about ready to start riding greens all over the mountain but that might have to wait until next season unless we get one more big storm.

Update: Better photos of the jacket. Its definitely not for everyone but I like it - much more than a TNF Thermoball Snow Triclimate that I bought earlier this winter and returned after wearing trying it on at home... I have enough old jackets to layer under a good shell to bother with a 3-in-1.