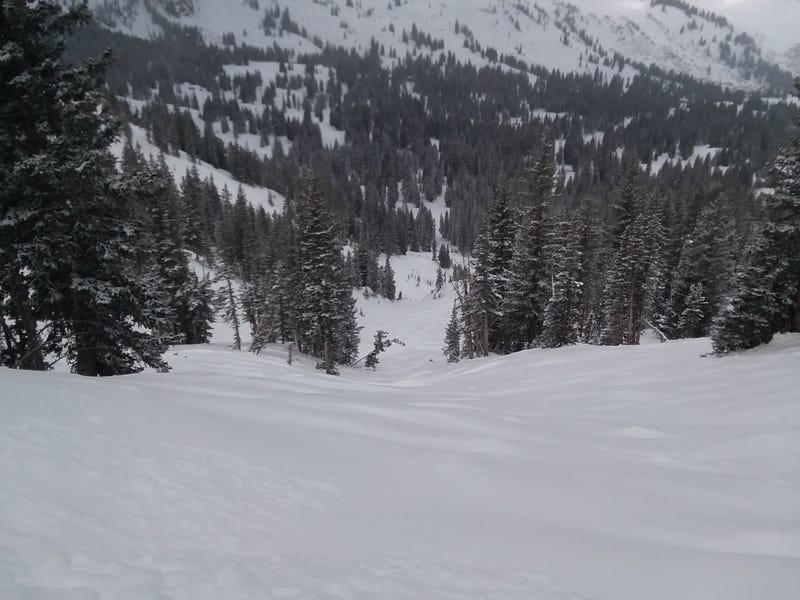 I just spent four days skiing at Alta and Snowbird in Utah with a couple of friends. While this year has apparently been a "light snow" season, I'm still accustomed to skiing ice and rocks in Vermont on even a good season. So it was an excellent treat when it snowed 5 inches my last day there! Even before that, I was enjoying the soft snow, plentiful coverage in most places, and extremely challenging terrain.
This was definitely my sort of place. Sure I ran into some lightly covered rocks and will definitely need to do some ptex base repairs to my skiis, but it was much less damage than my average day. Especially considering this is what my one ski looked like after Snowbasin:
Yeah I know that's some ski gore for sure haha. But with frequent waxing the skiis seem to continue holding up to the abuse. Nothing like this over the four days of this trip!
Anyways, it was just spectacular how nice the snow was to ski there. It was way easier to predict where I was going and "sending it" off of all sorts of jumps was far less sketchy with nice soft snow to land in. While Snowbird was uncomfortably crowded at times, our two days at Alta were just magical. Even on the powder day Saturday, it was just a short wait at the base to get up the mountain. I damn near froze to death since it had been ~40 and sunny the last three days but it was so worth it for the powder turns.
I'm now at 8 days of skiing for the season, bringing my mountain collective pass cost down to $50 a day which is extremely good for the mountains I've been at. Nothing like my 30 days last season, but I plan to get to at least half of that by the end.