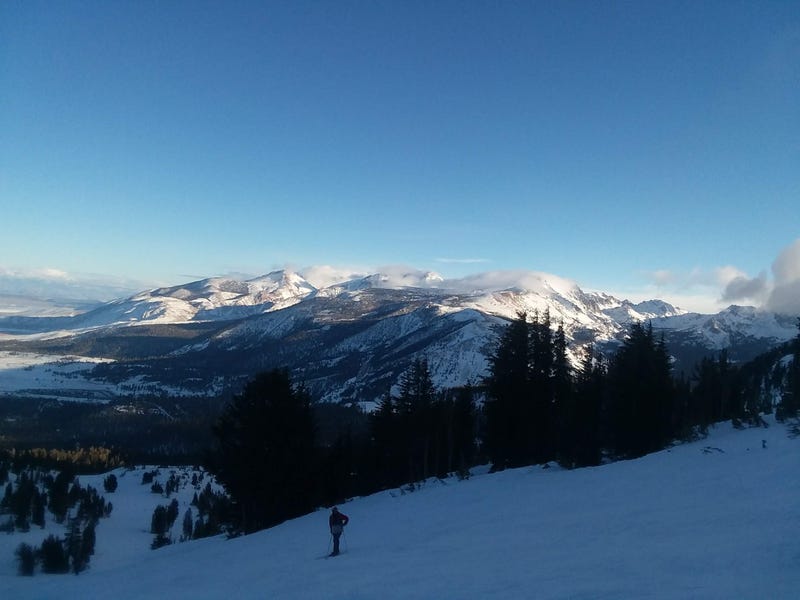 After a reported 3.5-5 FEET of snow over the past week, I made another trip up to Mammoth. This time I went with a coworker who is super familiar with the mountain and also at a higher skill level than myself. I could make it through the same sections without dying or otherwise making a fool of myself, but definitely at a much slower rate. It is likely just my extreme sense of caution moreso than lack of skill, but either way it was a fun trip. We found some extremely gnarly terrain with excellent, deep powder.
The area we were primarily shredding was off to the far left above the Cloud 9 express chair. This is a spot apparently known for housing some great powder stashes that remain relatively untouched due to being away from the more easily accessible and visible stuff at the upper mountain. We did go from the top and Traverse over once but it was not worth doing again due to thin coverage showing lots of rocks. There was a lower Traverse accessible from the top of Chair 9 that got us to 90% of the same skiing anyways. It was a little less extreme as well further down and much better covered so it was a better use of effort and time. We had many untracked lines through deep stuff! Some of it heavier snow than I'd like but it was light enough to be quite enjoyable. Thick trees and steep slopes made this area definitely beyond expert and I greatly enjoyed struggling through it.
It was a real treat to spend the two days with someone knowledgeable of the terrain. Just a great trip overall. Next up will be my long trip to Utah, Wyoming, and Montana. I'll be prepping my gear, doing some last minute preventative maintenance on the car, and packing everything this week. Hoping to get a post out detailing my plans as well! 
——

Ski days this trip: 2
Ski days this season: 11
Lift ticket $ per day: $600/11 = $54.55
States Skiied: CA
Resorts Visited: Mammoth Mountain, Snow Summit