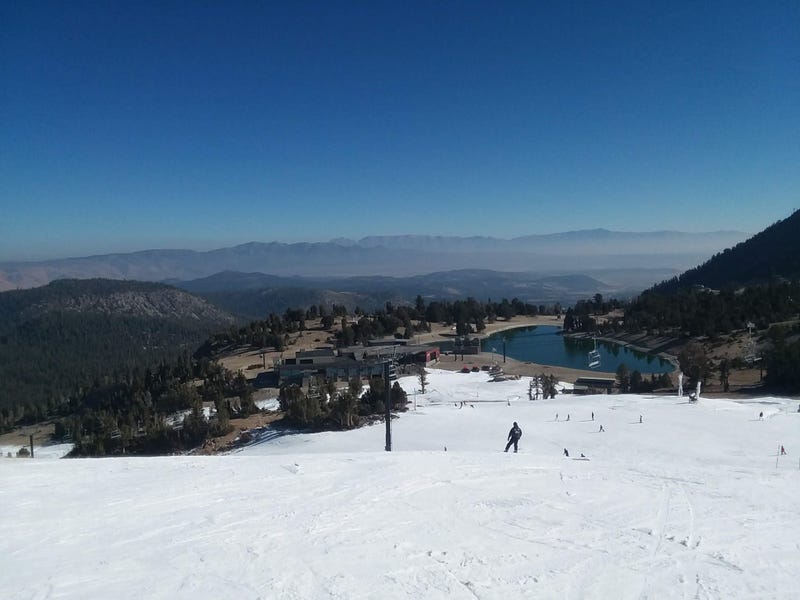 Something I want to do this year is keep a log of all of my ski trips and just post a little trip report for my days on the hill. Since Powder Forward is a rather underutilized kinja anyways, I might as well populate it with some content. My goal this season is something in the 30-40 day range so hopefully I will have many trips to post about!
Anyways, for my first trip I spent three days at Mammoth Mountain in California. They have received ZERO natural snow so far this season so there were only a couple of manmade groomers open. For what they had, the snow was actually pretty excellent, particularly first thing in the morning. Each day, I showed up to the mountain right at 8AM to get on first chair at about 830. The freshly laid corduroy made for nice blue run laps down the mountain. Friday I skiied until about 3PM and noticed that the conditions steadily worsened as the day went on, with the snow becoming sticky on Broadway (the main Blue trail) and incredibly scary ice on Andy's Double Gold (the only Black trail). The other two days I left around 11AM due to the conditions and crowds making the repetitve two trails get quite boring. It was a good warmup to start the season but of course very different from my usual ski trips.

For my gear, I tried out my new Elan skiis with the Phantom wax applied. I found that once the snow warmed up and got sticky, these actually performed worse than my other skiis with an all temp wax. But having brand new edges allowed the Elans to really cut well and ride on edge effectively.

Looking forward to my next trip since some snow is finally coming up this week and a few more storms are forecasted in the coming weeks. It is quite the delayed start to the season but I am just happy to finally be in the snow state of mind! This Ikon pass is well on it's way to paying for itself as well. For the purchase price of $600 and daily lift tickets being $99 that weekend, I am 50% of the way there before Thanksgiving. 
——
Ski days this trip: 3
Ski days this season: 3
States Skiied: CA
Resorts Visited: Mammoth Mountain